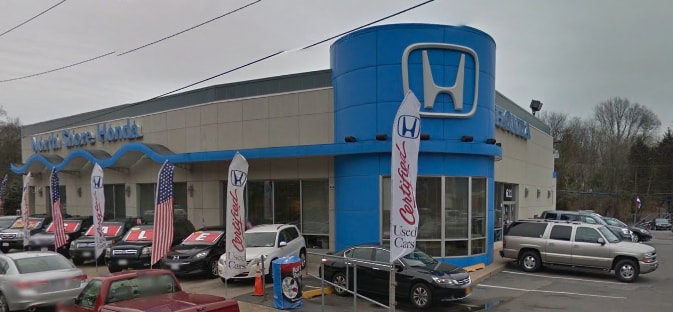 At North Shore Honda, we know that you have tons of choices of where to take your business when it comes to servicing your vehicle, but our Long Island Honda service center strives to make our customers feel at home. Our service center is "where everybody knows your name;" at least, that's how our customers feel. From the moment you enter our lot, you'll be greeted at the drop-off valet stand in front; don't worry about parking--we'll take care of that!
When you walk through the doors of our service department, our team will greet you--many of whom have been with us for 10- even 20-years, so if you've visited us before, they're sure to quite literally know your name! While you wait, help yourself to a cup of coffee and relax in our waiting area; you can catch the news on TV or tap into our complimentary Wi-Fi guest service. Quite often, we'll catch our customers chitchatting with our Sales Manager and/or their very own sales person--asking how the family is. The employees on our sales team have been with us for over 10 years.
Once we're finished providing your vehicle with the care it deserves, our Service Advisors will find you and make sure to sit down with you and go over every detail of the service that was done on your vehicle. They're experts, with the tools and knowledge required to provide you with quality Honda service you can count on. All of the work that our Honda-Certified and highly-skilled technicians have done on the car will be thoroughly explained at every visit. Be sure to check out our current Honda service specials offered at our Long Island dealership to ensure that you're taking advantage of all available savings on the services your vehicle needs. Our service staff has nothing but the best intentions of doing right by our customers, and that's how we keep our loyal customers coming back.
Our Honda Service Center in Long Island: Where Everybody Knows Your Name
Don't just take our word for it; see what previous customers have to say about their experiences with our service department:
"I've never had a bad experience there with my current car or my previous car. Sales and service are great. I'm always in and out. When I leased my Civic in June of 2013, the test drive to the signature was really easy and stress-free. I always tell my friends and family to go to North Shore Honda for sales, service, and even parts." - DealerRater user
"Scheduled an appointment for a Sunday afternoon, which was very convenient. Immediate greeting. Brought my Pilot in due to message on the display screen. Thorough and professional approach by person at the desk. He let me know exactly what was going to be looked at, but held the car until Monday since he wanted a Master Tech to look at it. Was given a longer overnight. Absolutely quick and responsive process. Drove out minutes later. Replacement program on order for installation next week. Excellent and trusted experience overall." - DealerRater user"
I have been a customer of North Shore Honda for close to 20 years. Their attention to customer service is unparalleled. From the sales team to the service team, I haven't had a situation that was not resolved to my satisfaction. When our '04 CR-V blew it's A/C condenser last year, requiring the complete replacement of the A/C system, our service advisor was able to convince the corporate office that they should honor a just expired recall noticed as I was a preferred customer. Those efforts saved me over $2,000 in repair costs." - DealerRater user
When it comes to choosing who you'll trust with your vehicle, why not go somewhere that'll treat you like family and deliver an experience that exceeds all expectations? After all, staying on top of your vehicle's maintenance and repair needs is an integral part of vehicle ownership and helps to extend the lifespan of your car. When you bring your vehicle in to the service department at North Shore Honda, you can rest assured that your car is in good hands.
To learn more about all that our service department has to offer or to schedule a service appointment with us, give us a call at (877) 465-5396.