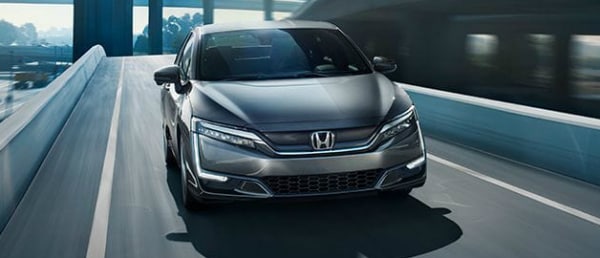 The hyper-efficient 2018 Honda Clarity Plug-In Hybrid has been found to have the highest all-electric range in its class, offering a range of 47 miles on a full charge. That tops the midsize plug-in hybrid class! Our Long Island Honda dealer has more details.
Go the Distance With Clarity
This all-new spacious five-passenger sedan is a hybrid engine, so if your trip spans longer than 47 miles, don't panic. The 2018 Honda Clarity Plug-In Hybrid is equipped with a 1.5L Atkinson cycle four-cylinder engine that will keep the model's efficiency figures in line while taking you to your destination. Long Island drivers can count on Honda hybrids to save the day, and when the Clarity Plug-In arrives at our dealership later this year, they'll have one more choice on the table!
The gasoline engine component of this model has received a great EPA rating as well. Drivers can anticipate netting up to 44/40/42 MPG rating (city/highway/combined), and when it works in tandem with the electric engine, it has an EPA driving range of 340 miles! Those day trips get much more appealing when you know you won't have to worry about trips to the pump.

Many Compelling Reasons to Buy
The 2018 Clarity Plug-In Hybrid is taking hybrid tech to the next level. You don't have to worry about bare-bones amenities with this model, which is anticipated to arrive in our dealership later this year. Its focus on luxury is evident by its soft-touch interior materials, high-tech features, and selectable drive modes. Its impressive fuel economy and low emissions are an added bonus on an already-desirable model!
Contact North Shore Honda today at (877) 860-5112 to talk to us about the 2018 Honda Clarity Plug-In Hybrid, arriving soon! We look forward to assisting you.